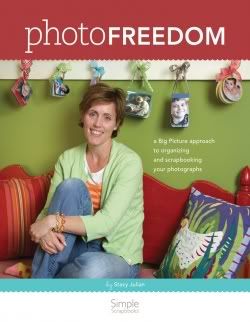 So I was playing around on the net yesterday and went to check out Tinkering Ink's blog. It was friday and apparently they always have a "Friday Freebie." This week it was a signed copy of this book...and guess what? I WON IT!!!!! Too cool. Thank you
Tinkering Ink and thank you random number generator!
Moving on, this weekend is Virtual Scrapbooking Night over at Splitcoast Stampers and one of the challenges was to make a page with a removable booklet for journaling it. This is my booklet. Each different color is another page and I'm going to use it to write down all those fun little "Kessa-isms" that I don't want to ever forget! The pp for the cover and the foam thicker are from the July Addicted Scrappers Sunshine and Popsicles kit.
And here's the page the booklet goes in! I am having so much fun using this kit!!! I'm loving the Cosmo Cricket papers and I'm having a BLAST fussy cutting them! lol. The everything but the cloud paper, ribbons and some of the letter stickers are from the A.S. kit. I also have to give credit to my DH who came up with the quote for the top of the page...even though I messed it up! lol. It was APPARENTLY supposed to be "Hookin' up words and phrases and clauses" Oh! I have an idea, leave me a comment and tell me what that's from. If I have more than 5 people leave comments I'll have a drawing for some goodies on...hmmm...Tuesday. Ok? Ok. (Kessa says that all the time and it totally cracks me up!)
credits: red bg - Bazzil, clouds pp - love, elsie, alpha stickers - little davis designs and ???, ribbon, Cosmo Cricket pps and photo corner, hand doodling, faux stitching, paper rick rack, AC foam Thickers